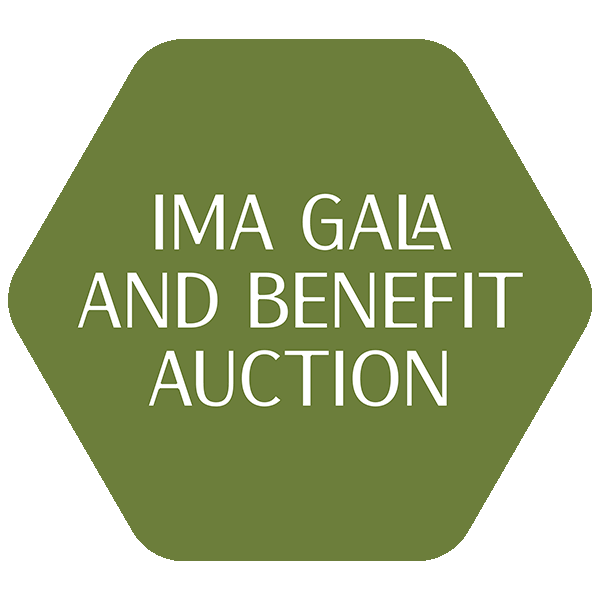 Gala and Benefit Auction
Friday 18 June 2021, 6:30pm–late
We are thrilled to announce our premiere fundraising event—the IMA's Gala and Benefit Auction—is back on for 2021. This year the Gala is held in honour of two seminal Australian artists—Jenny Watson and the late Laurie Nilsen.
Jenny Watson is a leading Australian artist whose conceptual painting practice spans more than four decades. She first exhibited at the IMA in 1980 with a solo exhibition titled Six Paintings, preceded by group exhibitions Minimalism (1983), The Brisbane Sound (2008), and Playtime (2014). Jenny continues to show her work at major galleries both nationally and internationally. Highly personal yet universally resonant, Jenny's contribution to feminist artistic discourse in Australia is beyond compare.
Laurie Nilsen was a trailblazing urban Indigenous artist, and one of the first to have work acquired by the National Gallery of Australia. Born in Roma, Southwest Queensland and hailing from Mandandanji country, his practice as both an influential artist and teacher spanned over forty years. Laurie was a founding member of the seminal Campfire Group and the renowned artist collective, proppaNOW. He exhibited at the IMA in 2005 as part of Shoosh! The History of the Campfire Group, and is widely known for his sculptures, paintings and works-on-paper featuring his totem, the emu.
The Gala is the only event of its kind in Australia. You're invited to enjoy the best of contemporary art at The Calile Hotel on James Street: bid in the Benefit Auction, see artist performances, and taste special offerings from local restaurants designed for the event.
With covetable works from leading national and international artists, our Benefit Auction will be available to preview online and at the IMA 15 & 16 June, before presentation at The Calile Hotel on the evening of the Gala.
Online bidding is now open and closes at 10pm AEST Friday 18 June 2021. Bid here.
Ticket Types
[SOLD OUT] Select a Collector Pass to celebrate our honourees and for best access to the Benefit Auction. Ticket gives access between 6.30pm and 10pm.
[SOLD OUT] Choose an Experience Pass to stay up late and dance the night away. Ticket includes access to the after party from 10pm.
A discounted rate for 6 or more Experience Pass tickets will be applied at checkout.
Dining Style:
Stand-up cocktail event with speciality offerings by local restaurants.
Gala Committee
Bec Malouf, Courtney Norris, Marie-Louise Theile, and Sally Quayle.
Performances and Activations
Caitlin Franzmann, Rhett Hammerton, Justene Williams, and THICC SHAKE. Plus DJs Levi Whyte and Sweaty Baby
Benefit Auction Artists
Marina Abramović, Vernon Ah Kee, Tony Albert, Khadim Ali, Lincoln Austin, Jordan Azcune, Nathan Beard, Richard Bell, Tom Blake, Daniel Boyd, Heman Chong, Sam Cranstoun, Mikala Dwyer, Emily Floyd, Dale Harding, Nadia Hernandez, Natalya Hughes, Jenna Lee, Ross Manning, Lachlan McKee, Tracey Moffatt, Sebastian Moody, Laurie Nilsen, Raquel Ormella, Luke Roberts, Paula Savage, Yhonnie Scarce, Marianna Simnett, Yvonne Todd, Judy Watson, and Lisa Waup
Donate
Please note: ticket price does not include donation. Please enter donation amount above.
Your donation helps support the IMA's program
Raffle Tickets
Exciting raffle prizes to be announced
Terms and Conditions
Read full terms and conditions here.