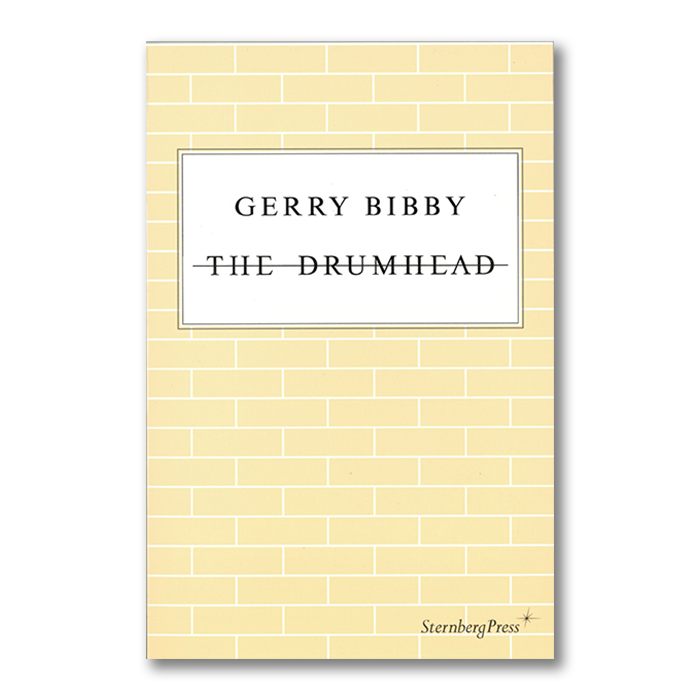 Gerry Bibby
The Drumhead
2014
Australian artist Gerry Bibby's first publication is a work of fiction that expands on the use of text in his sculpture, performance, and image work. Evoking William Burroughs's The Wild Boys and Robert Walser's The Walk, these "language costumes" pay homage to an unruly tradition of radical and queer literary presences over the last century. Their captivating passages brim with wit, wry observation, and (occasional) disgust, offering viewers "ways out," even if only while reading.
Commissioned by If I Can't Dance, I Don't Want to Be Part of Your Revolution, The Drumhead follows a two-year collaboration with KUB Arena of the Kunsthaus Bregenz, The Showroom London, CCA Glasgow, and the Institute of Modern Art, Brisbane. The book immodestly distills these institutional encounters into a multipart narrative that delves into the lives and psyches of those in the service industry. Exhaustion and frustration besiege a set of characters and the architecture that barely contains them, all of which are cipher-like in their multiplicity (and duplicity).
Gerry Bibby lives and works in Berlin. His recent projects and exhibitions include: Frieze Projects, Frieze London (2013); La Biennale de Lyon (2013); Version Control, Arnolfini, Bristol (2013); Last Call, Silberkuppe, Berlin (2012); and (untitled) with Robert Filliou, The Artist's Institute, New York (2010). Bibby studied Visual Art at the Sydney College of the Arts, Australia. He was the recipient of the Australia Council for the Arts, Kunstlerhaus Bethanien Residency, Berlin in 2012–13.
HIT