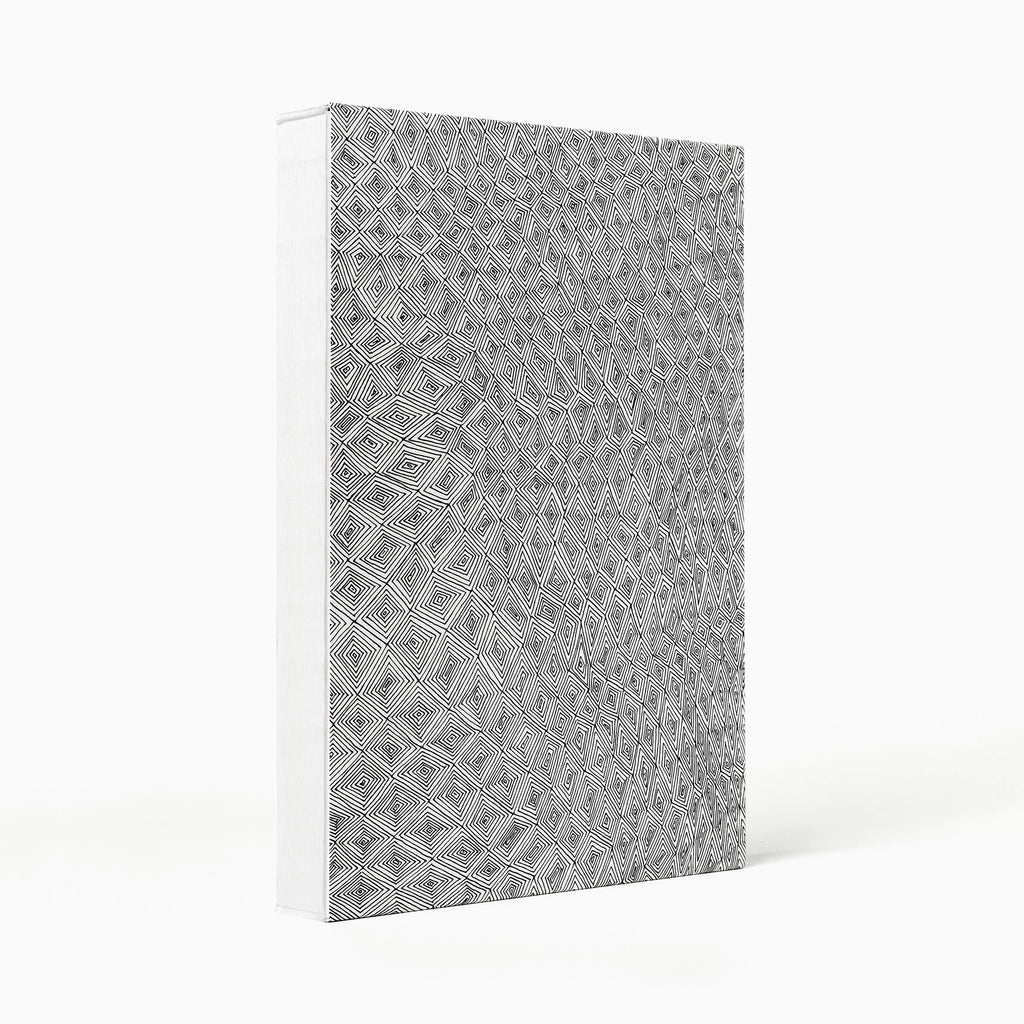 Jonathan Jones, Works on paper 2010–19
2021
A nuanced understanding of the histories, textures and patterns of country
Jonathan Jones' works on paper 2010–19 celebrates a decade of work by one of Australia's most important contemporary Indigenous artists. Never before seen in one survey, these sensitive works discuss the histories, textures and patterns of south-east Australia. Jones' projects are grounded in research and work closely with community to tell local stories. The collection of seven suites of works on paper represents ten years of work. Each series was originally shown as part of a bigger exhibition, narrative or research project, but by their nature works on paper are often overlooked. Bringing them together acknowledges the important role this medium plays in Jones' practice.
Edited by Genevieve O'Callaghan, this astute publication pairs Jones' bodies of work with relational texts by leading Aboriginal elders, authors and artists from the south-east to provide a cultural context to frame the works and to further explore the ideas from another angle. The texts are written by Barkandji artist Uncle Badger Bates, Waradgerie artist Lorraine Connelly-Northey, Wiradjuri language expert Dr Uncle Stan Grant Snr AM, Walgalu curator Aidan Hartshorn, Wiradjuri writer, poet and academic Dr Jeanine Leane, Wiradjuri poet and artist Jazz Money, and Gomeroi researcher and academic Dr Heidi Norman.
Featuring no formal covers and a custom typeface that analyses Australia's cultural relationship with its complex history, the volume strips away traditional formalities to present Jones' works as a quiet, deconstructed experience. The coverless publication is presented in a slipcase featuring a Jonathan Jones murru drawing and no printed text or titles, creating a holistic artifact-like finish.
The seven works on paper suites presented are:
• untitled (salt)
• untitled (murru)
• untitled (Murray-Darling river catchment)
• gugumagalang (stumps)
• Garden Palace suite
• nguram-bang-dyuray (country-having)
• buguwiny (grass)
Jonathan Jones is a Sydney-based artist and researcher of the Wiradjuri and Kamilaroi nations of south-east Australia. He works closely with community to create a range of projects that talk to both the historical and contemporary. Jones is a researcher at Jumbunna Institute for Indigenous Education and Research, University of Technology Sydney. Jones has exhibited nationally and internationally. In 2019 he presented the curated exhibition Bunha-bunhanga: Aboriginal agriculture in the south-east at Tarnanthi festival, Art Gallery of South Australia and Museum of Economic Botany, Adelaide. In early 2020 he created the site-specific ephemeral artwork untitled (maraong manaóuwi) at the Hyde Park Barracks, presented by Sydney Living Museums and Art & About Sydney. Most recently, Jones's work was included in the online exhibition do it (australia), Kaldor Public Art Project 36, 2020, and his new project untitled (transcriptions of country) opens at the Palais de Tokyo in Paris in late November 2021.