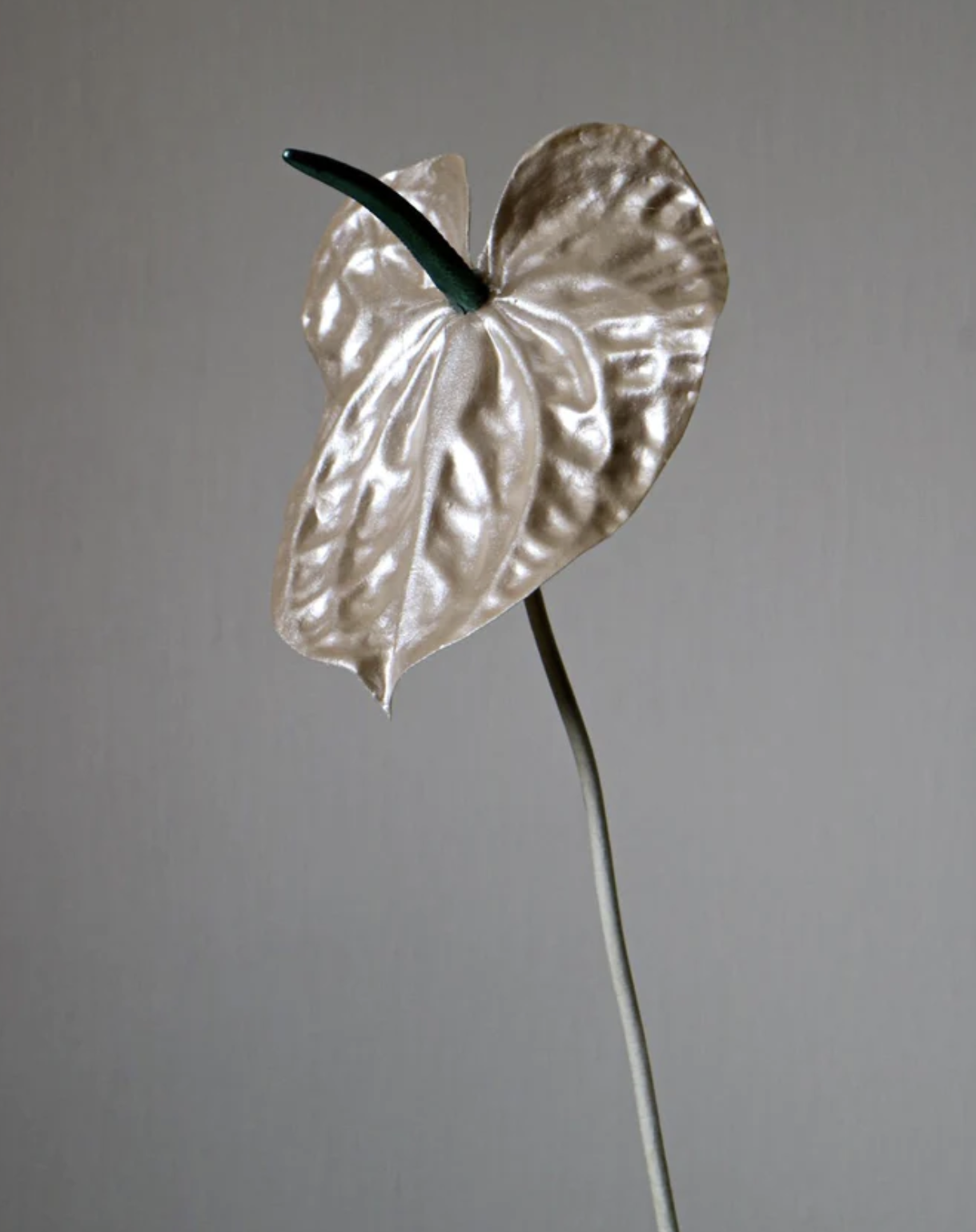 Anna-thurium Turquoise details
Atrium RedThe 'Pearl Anna-thurium' is based on the classical Anthurium but inspired by the master of light painter Anna Ancher. The bloom is, therefore, covered in shiny white-silver pearl colors with a soft touch of glitter that reflects the light. The spadix is pearly turquoise inspired by the inside colors of seashells and mussels. The stems are bendable, making them easy to arrange in bigger bouquets or beautiful as a stand-alone piece.
Anna Ancher, one of the best-known female Skagen painters, was intensely preoccupied with exploring light and color. She is also known for painting interiors and including nature and flowers in her motives. Her boundary-breaking use of color and her marvelous ability to capture a ray of sunshine has been a big inspiration for the 'Pearl Anna-thurium'.
The Anna-thurium is a part of the 'Skagen Collection'. The colors are inspired by the old Danish Skagen painters that lived from the 1870s until the turn of the century. Skagen was a summer destination whose scenic nature attracted northern artists to paint in the open landscapes, emulating the French Impressionists.
Measurements
Length: 42 cm. 
Weight: 200 gr.
Bendable and cuttable stems 
Bendable petals (bloom)
100% handcrafted 
Materials
The main material is textile, polyester made from reused plastic bottles. The spadix is made with tapioca flour. Other materials used: lacquer, latex, paint, glue, paper, and metal wires.
The flowers are 100% handmade, so there are small differences in all variations.
Longevity
Our florals are designed to last a minimum of 6 years, and with proper care, they can extend their beauty even longer.
Thanks to their real-touch coating, the vibrant colors remain stunning over the years and are easy to maintain. Simply use a gentle brush or a damp cloth for easy cleaning.