[Download 2022 Program Guide as PDF]
In early 2020, when we marked the Institute of Modern Art's 45th anniversary with the launch of an ambitious artistic program, no one had the faintest idea that a period of monumental upheaval was just around the corner. For most of us in the arts and cultural sector, the past two years have been marked by cancellations, postponements, and disruption across the board.
And while this period has at times, been one of fatigue, disconnection, and isolation, it has also given space to new ideas and new ways of thinking about our world. Artists have always led the charge in this respect, and even in the most challenging and difficult of circumstances, art continues to not only find a way, but to lead. Defiance, courage, and experimentation underscore the IMA's 2022 Annual Program: one that I immensely proud of and thrilled to be sharing with you all. Across 22 exhibitions, and over 60 public programs, artists from across the globe will inspire, challenge, and surprise you with their bold reimagining of a better, more just, and more connected world.
Open from 12 February is This language that is every stone, an exhibition three years in the making, and one that exemplifies the IMA as a site where the local and global converge. Curated by Hans Ulrich Obrist, Asad Raza, and Warraba Weatherall, This language that is every stone will feature the work of 17 Australian and international artists, each responding to the writing of renowned Martinique philosopher Édouard Glissant.
Following this, British-Nigerian artist and director Jenn Nkiru presents her breakout video REBIRTH IS NECESSARY. A powerful exploration and celebration of blackness, this immersive exhibition—the artist's first ever in Australia—will electrify your body with its rhythmic soundscape and dreamlike imagery.
As well as bringing leading international art to Australia, the IMA has long committed itself to the art and artists within our immediate proximity. 2022 will be no exception, as we deepen our support of Queensland artists across three ambitious and large-scale exhibitions by Natalya Hughes, Aha Ensemble, and Gordon Hookey. Across painting, sculpture, site activations, and performances, these distinctive projects will offer local audiences an unparalleled opportunity to learn directly from practicing visual artists.
The IMA's 2022 exhibition program will be complimented by an ever-growing education offering, free public events, and of course, our popular annual IMA Gala and Benefit Auction. Most excitingly, in 2022 the IMA will present Net Positive: What does a better art institution look like? an international lecture series and publication, supported by the Keir Foundation and featuring leading thinkers in the field of contemporary art.
While the future may feel as uncertain as ever, now is the time to immerse yourself in the worlds and possibilities created by this group of extraordinary artists. We look forward to welcoming you to the IMA in 2022.
—IMA Executive Director Liz Nowell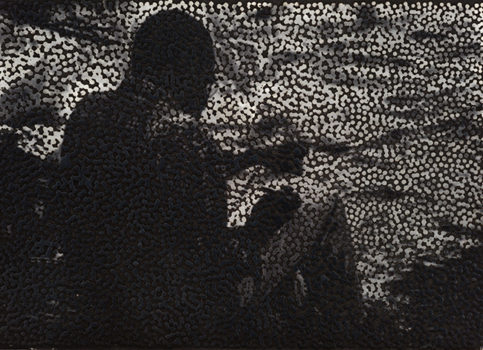 This language that is every stone
12 February–16 April 2022
Vernon Ah Kee, Robert Andrew, Daniel Boyd, Megan Cope, Manthia Diawara, Taloi Havini, Koo Jeong A, Sancintya Mohini Simpson, Phuong Ngo, The Otolith Group, Philippe Parreno, Raqs Media Collective, Khaled Sabsabi, Anri Sala, Yhonnie Scarce, Latai Taumoepeau, Shireen Taweel
Curated by Hans Ulrich Obrist, Asad Raza, and Warraba Weatherall, This language that is every stone is the fourth iteration in a series of exhibitions conceived by Obrist and Raza that surveys the life and work of Martinique writer Édouard Glissant.
Developed specifically within an Australian context, This language that is every stone explores cultural synthesis and permeability through the works of Australian First Nations and diasporic artists, with contributions from international counterparts.
Supported by the Copyright Agency Cultural Fund and the Queensland Government through Arts Queensland.
Image: Daniel Boyd, Untitled (EOTAEIAOOTA), 2020, oil, acrylic, and archival glue on canvas. 58.5 x 82.5 cm. Courtesy of the artist and Roslyn Oxley9 Gallery, Sydney.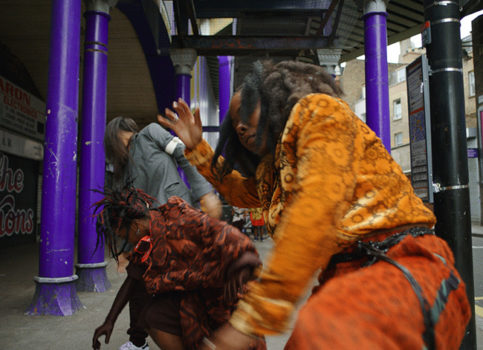 Jenn Nkiru
REBIRTH IS NECESSARY
7 May–9 July 2022
The IMA is excited to present award-winning artist and director Jenn Nkiru's first solo exhibition in Australia. REBIRTH IS NECESSARY explores the magic and dynamism of Blackness in a realm where time and space are altered. The now, the past, and the future are rethought and reordered to create something soulful and mind-bendingly visceral.
Jenn Nkiru is an award-winning visionary artist and director. Pushed through an afro surrealist lens, her works are grounded in the history of black music, the aesthetics of experimental film, international art cinema, the black arts movement, and the rich and variegated tradition of cinemas of the black diaspora and their distinct experimentation with the politics of form.
Image: Jenn Nkiru, REBIRTH IS NECESSARY (video still), 2017. Courtesy of the artist and Mothership.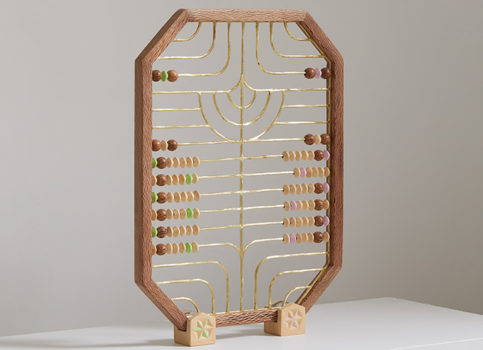 An Alternative Economics
7 May–9 July 2022
Five Mile Radius, Gunybi Ganambarr, Wanda Gillespie, Katie Paterson, Make or Break, Keg de Souza, and Shevaun Wright
An Alternative Economics brings together a group of Australian and international artists who each use their artmaking to explore and expand on the creation of value. Guided by the idea of the circular economy and its compelling counter-narrative to the untenable model of eternal growth, each work in this exhibition offers a provocation to make us reconsider what is 'counted' in our society and why.
Curated by Tulleah Pearce.
Image: Wanda Gillespie, A Counting Frame for Future Economies, 2021. Courtesy the artist.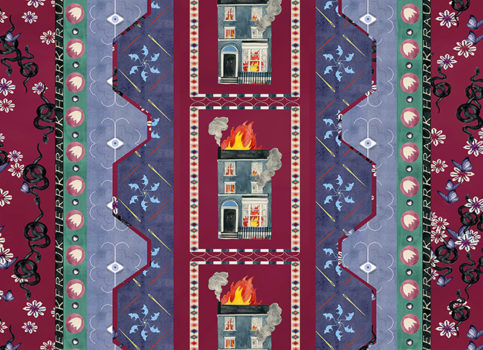 Natalya Hughes
The Interior
30 July–1 October 2022

Can we use the talking cure to solve society's 'problem' with women? Natalya Hughes's The Interior invites audiences into an exaggerated consultation room playfully furnished for psychoanalysis. This immersive installation combines sculptural seating, richly patterned soft furnishings, and uncanny object d'art, nestled around a hand-painted mural to generate a stimulating space to unpack our collective and unconscious biases.
Natalya Hughes is the 2022 recipient of the Michela & Adrian Fini Artist Fellowship, awarded by Sheila Foundation. The Interior has been assisted by the Australian Government through the Australia Council, its arts funding and advisory body.
Curated by Tulleah Pearce.
Natalya Hughes, The Interior, work in progress, 2021. Courtesy of the artist, Sullivan+Strumpf, and Milani Gallery.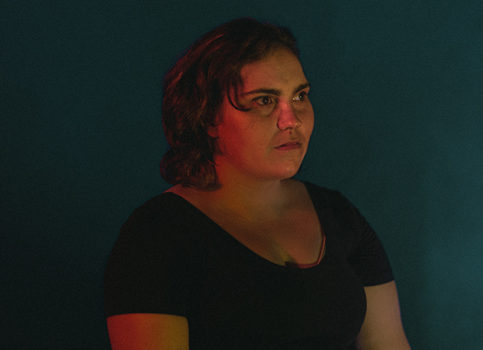 Aha Ensemble
Absolutely Everybody Judges
30 July–1 October 2022
Artist collective Aha Ensemble present a newly commissioned participatory installation. Working across Southeast Queensland and driven by an ethos of connection, curiosity, and care, Aha Ensemble use their bodies to explore representation, question value, and challenge assumptions about ways of being in the world. Having worked primarily in performative practices, Absolutely Everybody Judges represents the collective's first installation work.
Aha Ensemble are the recipients of the Jeremy Hynes Award, made possible through a bequest from the family of artist Jeremy Hynes.
Image: Aha Ensemble member Allycia Staples, 2020. Photo: Jorge Serra.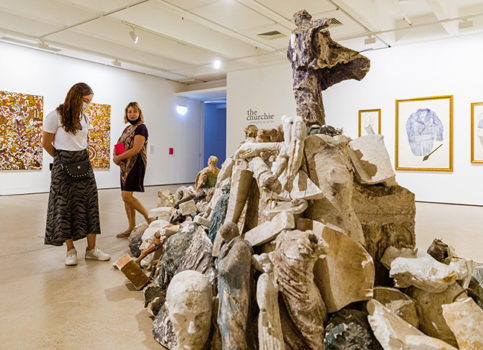 the churchie emerging art prize 2022
30 July–1 October 2022
Since its inception at the Anglican Church Grammar School in 1987 the churchie emerging art prize, or 'the churchie', has sought to identify and profile rising artistic talent. Today it is known as one of Australia's leading prizes for emerging artists.
The finalists' exhibition, presented at the IMA since 2019, provides a survey of the compelling and diverse work being produced by early-career artists.
Thanks to generous supporters, 'the churchie' offers a prize pool of $25,000, with the Major Prize Winner receiving a non-acquisitive $15,000 cash prize donated by long-standing sponsor, BSPN Architecture.
Image: 2021 'the churchie' winner Nina Sanadze's Apotheosis (2021). Photo: Joe Ruckli.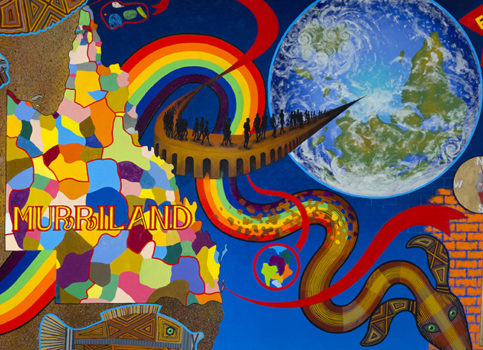 Gordon Hookey
A MURRIALITY
22 October–23 December 2022
A MURRIALITY is the first survey of renowned Waanyi artist Gordon Hookey, charting three decades of practice where artmaking and activism fuse.
Across sculpture, printmaking, video, and large-scale painting, this exhibition presents perspectives on historical and contemporary issues affecting Aboriginal and Torres Strait Islander peoples. The exhibition features a significant new commission that draws inspiration from Hookey's vast collection of political posters and continues his acclaimed series of protest banners.
Developed in partnership with UNSW Galleries and supported by the Australia Council for the Arts, Gordon Darling Foundation, IMA Commissioners Circle, and UNSW Commissioners Circle.
Curated by Liz Nowell, Jose Da Silva, and Jax Compton.
Image: Gordon Hookey, Murriland! #1 (detail) 2015-17, oil on canvas, 210 x 1000cm. Collection: HOTA. Image courtesy of the artist and Milani Gallery, Brisbane. Photograph: Carl Warner. © Gordon Allan Hookey/Copyright Agency, 2021.
Related Exhibition
REBIRTH IS NECESSARY
14 May–09 Jul 2022
The Interior
30 Jul–01 Oct 2022
Absolutely Everybody Judges
30 Jul–01 Oct 2022
A MURRIALITY
22 Oct–23 Dec 2022